Offering greater diagnostic confidence with up to 45% dose reduction* to improve pediatric patient care
with S-Vue™ 3.02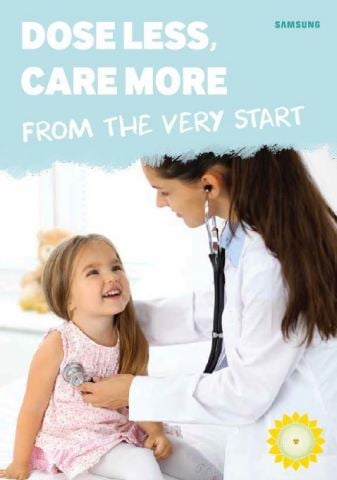 Dose Less, Care More: Samsung is committed to delivering superior image quality and optimized dose controls at every stage of the patient journey, starting with the smallest of patients in pediatrics.
DANVERS, Mass. – April 23, 2019 – Samsung announced that its new image post-processing engine (IPE), S-Vue™ 3.02, recently received FDA clearance. The technology employs an advanced noise-reduction algorithm that allows devices to produce the same high-quality image using a fraction of the radiation in pediatric patients. Image evaluations on devices using S-Vue™ showed they reduced X-ray dose up to 45% for pediatric abdomen exams, 15.5% for pediatric chest exams, and up to 27% for pediatric skull exams as compared with the previous IPE on the same X-ray systems. This data underscores Samsung's commitment to minimizing dose exposure, especially in pediatric patients requiring repeated exposure.
Samsung's digital radiography (DR) machines – including GC85A and GM85 – incorporate Samsung's S-Vue™ 3.02, which provides spatially adaptive multi-scale processing and advanced de-noising technology, delivering quality images with a fraction of the dose.
"Findings of our clinical trial showed that use of Samsung's S-Vue™ for pediatric chest images resulted in an overall image quality that was uncompromised even at a significantly reduced radiation exposure," said Susan John, MD, Professor and Chair, Diagnostic and Interventional Imaging at McGovern Medical School at The University of Texas Health Science Center at Houston (UT Health). "The reduction in radiation dose potentially enables repeat radiographs for better follow-up in patients from infancy into adulthood, while assisting us in confident diagnosis."
"Constantly working to lower dose exposure is a top priority for radiologists and healthcare professionals, and Samsung's ability to offer dose reduction across its suite of DR machines represents another breakthrough in medical imaging technology. This new low-dose protocol is proof that we're continuing to reduce radiation dose in our products. We are delighted that we are now able to offer this to the patients who are most vulnerable," said David Legg, Vice President, Head of Ultrasound and Digital Radiography Business, at NeuroLogica, the healthcare subsidiary of Samsung Electronics.
Samsung is aiming to lower dose exposure in X-ray systems to push ALARA efforts to the next level for healthcare professionals.
Learn more here: www.samsunghealthcare.com/en/lowdose
*The claim concerning Samsung DR is based on limited phantom and clinical study results. Only routine PA chest radiography and abdominal radiography for average adults and pediatric abdominal, chest, skull radiography were studied, excluding pediatric patients under 1 month old.
About NeuroLogica
NeuroLogica, the healthcare subsidiary of Samsung Electronics Co., Ltd., develops, manufactures, and markets innovative imaging technologies and is committed to delivering fast, easy and accurate diagnostic solutions to healthcare providers. NeuroLogica, the global corporate headquarters and manufacturer of Samsung computed tomography, is also the US headquarters for sales, marketing and distribution of all Samsung digital radiography and ultrasound systems. NeuroLogica's growing portfolio of advanced medical technologies are used worldwide in leading healthcare institutions helping providers enhance patient care, improve patient satisfaction, and increase workflow efficiency. For more information, please visit www.NeuroLogica.com.
About Samsung Electronics Co., Ltd.
Samsung inspires the world and shapes the future with transformative ideas and technologies. The company is redefining the worlds of TVs, smartphones, wearable devices, tablets, digital appliances, network systems and memory, system LSI, foundry and LED solutions. For the latest news, please visit the Samsung Newsroom at http://news.samsung.com/.
Contacts
NeuroLogica
Lynne Gagne, 978-564-8576
lgagne@samsungneurologica.com