Redefining women's health imaging, Samsung's HERA W10 Elite, the premier model of the HERA platform, aims to step up as a visionary leader of Obstetrics and Gynecology applications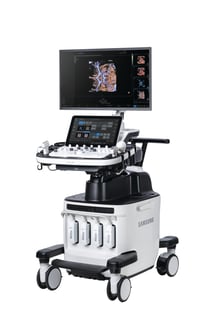 The HERA W10 Elite features an ergonomic-friendly design and is optimized with updated imaging capabilities to drive diagnostic confidence.
Danvers, Massachusetts – February 8, 2023 – Boston Imaging, the United States headquarters of Samsung's digital radiography and ultrasound business, introduces the HERA W10 Elite1; the premier model of the HERA platform for Obstetrics and Gynecology that provides clinicians with a suite of powerful artificial intelligence (AI) tools and clinical applications to advance the diagnostic experience.
"Women's health is a fast-growing field that requires state-of-the-art equipment for patient care. The HERA W10 Elite will bring visionary change to Obstetrics and Gynecology with sophisticated image processing and an ergonomic-friendly design," said Tracy Bury, Women's Health Ultrasound Business Leader, Boston Imaging.
The HERA W10 Elite may assist clinicians in receiving greater insight in diagnosis with its intuitive visualizations, precise analytic features and fast operation. The revolutionized system has also been updated from its predecessor in a variety of aspects, including:
Advanced MV-Flow™: To display the intensity of blood flow, it provides 2D and 3D visualization of microcirculatory and slow blood.
Larger OLED Display: The display area has been increased by 57%2, while the OLED3 screen realistically represents black colors making it well-suited for diverse ultrasound image characteristics.
New Transducer: The EV2-124 allows visualization of the fetal heart and brain starting at eight weeks endovaginally.
The system is also equipped with enhanced AI features, such as:
HeartAssist™: Provides measurement results and automatically classifies an ultrasound image into measurement views required for fetal heart diagnosis.
ViewAssist™: Automatically classifies ultrasound images and annotates the structures for convenient measurement (16 new views added).

4,5

BiometryAssist™: Enables clinicians to measure fetal growth parameters with a single click while maintaining exam consistency.4
Samsung is committed to bringing new and updated women's health-focused ultrasound systems to market to remain true to its pledge to support the life-long healthcare of women. The HERA W10 Elite will be showcased at the Society for Maternal Fetal Medicine's 43rd Annual Pregnancy Meeting from February 8 to 10 at booth #317.
Additional information on the system can be found here.

References:
1. Elite is not a product name but is a marketing terminology.
2. Compared to Samsung HERA W10.
3. OLED: Organic Light-Emitting Diode.
4. The hardware and software features are FDA 510(k) pending, not available for sale in United States.
5. ViewAssist™ fully covers global guidelines from 1st to 3rd trimester.
About Samsung Electronics Co., Ltd.
Samsung inspires the world and shapes the future with transformative ideas and technologies. The company is redefining the worlds of TVs, smartphones, wearable devices, tablets, digital appliances, network systems and memory, system LSI, foundry and LED solutions. For the latest news, please visit the Samsung Newsroom at http://news.samsung.com

About Boston Imaging
Boston Imaging markets innovative imaging technologies and is committed to delivering fast, easy and accurate diagnostic solutions to healthcare providers. Boston Imaging is the United States headquarters for sales, marketing and distribution of all Samsung digital radiography and ultrasound systems. Boston Imaging's growing portfolio of advanced medical technologies is used in leading healthcare institutions helping providers enhance patient care, improve patient satisfaction and increase workflow efficiency. For more information, please visit https://www.bostonimaging.com
Media Inquiries
Lynne Gagne
Boston Imaging
978.564.8576
lgagne@bostonimaging.com