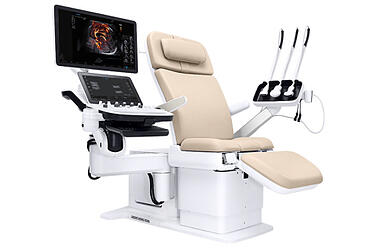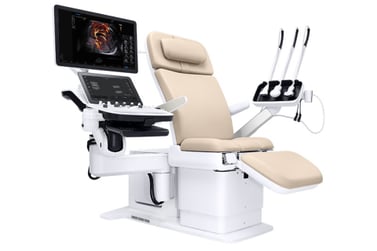 Danvers, MA – September 26, 2019 – NeuroLogica, a subsidiary of Samsung Electronics Co. Ltd., announced that the Samsung Hera I10 ultrasound system has received FDA clearance and will be unveiled at the Society of Diagnostic Medical Sonography (SDMS) 2019 Annual Conference in National Harbor, MD. The Hera I10 is the latest addition to the Samsung Hera family of Premium Women's Health ultrasound systems and represents a first of its kind in ultrasound system design with the integration of an ultrasound examination chair.
Through its integrated ultrasound exam chair, ergonomics, and technology, the Hera I10 aims to improve the ultrasound experience, clinical confidence and ultimately, patient care. The Hera I10 Ultrasound is currently available commercially in the U.S.
Integrated Design
The revolutionary design of the Hera I10 aims to increase comfort and safety, resulting in a smoother and more relaxing ultrasound exam for both the clinician and patient.
Integrated, Motorized Chair: Enables clinicians to help patients safely and comfortably move into the optimal position to capture the images needed to provide a confident diagnosis.
Smooth Adjustability for Patient Comfort: Users can adjust the chair from 18.9" in the start position to a maximum height of 38.6", eliminating the need for patients to maneuver uncomfortably onto a traditional exam table.
Durability for Long-Lasting Use: The exam chair is designed to withstand up to 440 lbs., enabling it to withstand long-term use.

Elevated Ergonomics
Hera I10's new design has an extremely wide range of motion allowing the system to adapt to the unique scanning position of each user creating an optimized scanning environment to help reduce pain and strain while scanning.
Floating Console: Allows technicians to position the system where they need it, enabling all-day scanning comfort. Internal studies have shown an increase in user satisfaction of 50%, and a reduction in the force required to move the system back and forth between abdominal and vaginal scanning by approximately 52% when compared to traditional ultrasound.
Transducer Station and Cable Support Arm: Supports the majority of the transducer cable's weight to reduce force on the scanning wrist by 70%, as found by the aforementioned internal study.
Motorized, Adjustable Exam Chair: Helps clinicians safely assist patients on and off of the exam table as well as into a reclined position for their ultrasound exam, helping reduce associated risk of injury while performing this common task.

Advanced Technology
As the newest addition to the Hera platform, the Hera I10 incorporates our Crystal Architecture™ to enable exquisite image clarity and advanced technology for confident diagnosis.
ShadowHDR™: This proprietary technology helps suppress shadows caused by fetal limbs or bone to reveal details otherwise obscured.
LumiFlow™: Provides dimensional visualization of blood flow that aids in quickly understanding vessel boundaries, and may provide additional spatial comprehension when documenting fetal and maternal hemodynamics.
MV-Flow™: Provides detailed visualization of microvascular perfusion into tissues and organs, helping to easily visualize fetal lung perfusion, ductus venosus, MCA, and adnexal low flow hemodynamics.

"As a maternal fetal specialist who receives the most challenging OBGYN referral cases, I feel like it's my responsibility to have the best equipment in town, which is exactly what Hera I10 provides," says Dr. Janet Davis, M.D., F.A.C.O.G. "With the growing obesity epidemic, it is especially important to have an ultrasound machine that provides the highest imaging quality in order to reveal fetal detail that we previously could not see. I also love the Hera I10's ergonomic design, which increases comfort for sonographers while scanning and can lead to increased productivity and less on-the-job strain."
Stop by Booth #310 at the Society of Diagnostic Medical Sonography (SDMS) 2019 Annual Conference September 26 – 28 at the Gaylord National Hotel in National Harbor, MD to experience Hera I10.
Visit: https://www.neurologica.com/samsung-hera-i10-0 for more information or follow us on LinkedIn, Facebook and Twitter.
About NeuroLogica
NeuroLogica, the healthcare subsidiary of Samsung Electronics Co., Ltd., develops, manufactures, and markets innovative imaging technologies and is committed to delivering fast, easy and accurate diagnostic solutions to healthcare providers. NeuroLogica, the global corporate headquarters and manufacturer of Samsung computed tomography, is also the US headquarters for sales, marketing and distribution of all Samsung digital radiography and ultrasound systems. NeuroLogica's growing portfolio of advanced medical technologies are used worldwide in leading healthcare institutions helping providers enhance patient care, improve patient satisfaction, and increase workflow efficiency. For more information, please visit www.NeuroLogica.com.